This weeks look inside Rannons' Call takes it to the stage with none other than our own......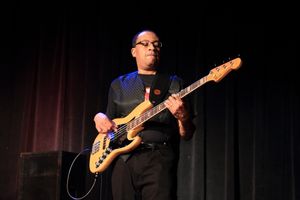 John (Big John),(Wiggs) Harvell
  Proverbs 18:16,"A man's gift maketh room for him, and bringeth him before great men." 
  The first thing I said to God was "Lord, I need John". If God's Gift to me are the words, and my assignment is to go out and deliver them in song, then I knew I needed John. I had not seen him in a long time, did not have his phone number or knew where he lived, but....the Lord made room for my gift and honored my request and put John before me!
  I don't play without him!
  That's about as plain as I can get, I don't play without him. Yes, he is a great bass player, yes, his style compliments Rannons' Call. But, it's about more than that with John and myself. He sees what I want a song to convey musically, he knows where I want it to go. His presence is such that I don't even look to hear what he's doing in a song, it's already and always there. John will sometimes hear a song that we are developing and say" This has that or this flavor", and I'm like,yeah. He hears what I hear. I truly wish I could describe what it means to have someone with you who hears what you hear,and sees what you see.
  John is also our resident quailty control. If you almost miss a note, not miss a note but almost miss a note, he will hear it! When he says we have done a good job on a song,you better believe it's tight! He doesn't do a lot of talking so when he does speak, I listen. He's not going to say it twice so I try to get it the first time! Whether it's about a particular song, the music in general or the ministry itself, I listen. His opinion carries a lot of weight with me and I value it. 
  In co-writing "Open Eyes" with John he really made it easy. He already had the musicial foundation and most importantly the biblicial inspiration. He said "I want to talk about the power of God", and then he was specific and began to talk about Ezekiel 37:1-14. It is from that passage of scripture that the words came to me.
  I always look and marvel at how Jimi Hendrix,when in concert would decide to do something totally unplanned in a song and would look over at Billy Cox to let him know. Billy Cox would never look up but would be right on every note Hendrix would play! It's about more than knowing the song, You have to know the person to do that, there has to be a connection. John and I know each other and I can't stress this enough, he hears what I hear, sees what I see. 
  He is my friend and...I don't play without him.
      Tune in next week as we continue to take a look inside Rannons' Call. Also,don't forget to vote for your favorite song for our very first video. You may just make a cameo appearance!
                                        Reginald
                                       Ephesians 3:20,21