The first winner is none other than......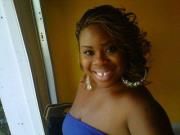 Ms. Betsy Fulton
  Congatulations Betsy! In all honesty Betsy is one who we did not pick at random. She was the first to get our CD online and the first to vote in the contest. We wanted to do something special for her to show our appreciation. What better way than to have her also be the first one picked to make a cameo in our first video!
  Betsy, although you live a few hundred miles away in Atlanta,Ga., don't worry! As I said before if you are chosen, no matter where you live, you will be in the video, we will make it happen!
  Betsy, we will contact you in plenty of time so that you can pack your bags and be ready to spend some time hanging out with Rannons' Call!
  Well, there you have it! Our first winner, Ms. Betsy Fulton. Tomorrow there will be another. It may be you!
  I'm excited!!
                             Reginald
                        Ephesians 3:20,21