Our last look insde Rannons' Call features non other than me!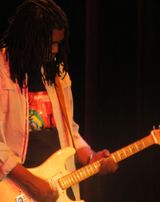 Reginald Wade !!
  Wow! What can I say about me as it relates to the ministry Rannons' Call?
  It's all about giving what God has given, the lyrics the music. It's about using the gifts, the talents that God has given.
  There is nothing like a song that speaks to you, that touches you where and when you need it. This is what I want this ministry to do.
  Yes I've been told that we would be millionaires if we played secular music but, it's not about the money. It's about being a comfort, a light, a blessing, a witness.
  I write about what I see in my life and the lives of others and point the way to Jesus. As long as there is a world and a bible, I will never run out of things to write about. The lives of people and the Word of God inspire what I write.
  I believe that God will put before us those who will recieve what He has given us. So we will continue to be true to our style of music  and to God. It's who we are. I kind of have to believe that He knows what He is doing!
  The only way Rannons' Call is a success is because of you. Because the songs speak to you. We thank you for letting us minister to you and ask that you continue to support us.
  There is music in the message..
  Tune in next week as we start a new series. Don't forget to vote for your favorite song for our very first video. You may just make a cameo appearance!
                                      Reginald
  Ephesians 3:20,21
20. Now unto him that is able to do exceeding abundantly above all that we ask or think, according to the power that worketh in us,
21. Unto him be glory in the church by Christ Jesus throughout all ages, world without end. Amen.