Continuing our series "Inside Rannons' Call" is our very own.....drum roll please!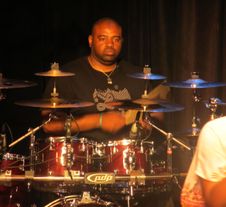 Jasper (Scoot) Salary!
     "Can you play?" These were the first words I said to Scoot when I met him! You have to understand that I have encountered people in the the past that may have thought more highly of their skills than they should or to be nice about it, needed more time to develop them!
     Jasper looked at me, gave me a humble answer and sat down to play. He finished,got up, and I looked at him and said,"Yeah, you can play!!"
    For some, drums are just a means for the rest of the band to keep time,to fill in some space. When I hear Jasper play, I hear an instrument. He has a feel, no it's not a feel, it's a gift,where he knows what sounds to create to make the music more than what  I invisioned. There have been so many times when I have missed a note or forgotten where I was in a song because I was so busy listening to Jasper. I hear him do something an just have to say to myself  ,"Man, that was Sick!".
  Our songs have a flavor that goes from country to rock, to everything in-between and Jasper does it all with skill and passion effortlessly. He's not just a drummer,but a musician whose weapon of choice are the drums.
 When we go out to minister in song and I have Jasper behind me,yeah,I just smile. It's a feeling,a connection. 
  So,not only can he play, but his style of play is perfect for Rannons' Call. When you hear our music keep in mind that there are only 3 instuments. We recorded our CD live. No overdubs, no layers!
  On top of all of this, he is a friend and more so, a student of Gods' word. It doesn't get any better than that!
   Tune in again next week as we continue our look inside Rannons' Call,and don't forget to vote for your favorite song for our first video! You may just make a cameo appearance!
                                            Reginald
                                               Ephesians 3:20,21